Are Flood Zones Impacting Your Transactions?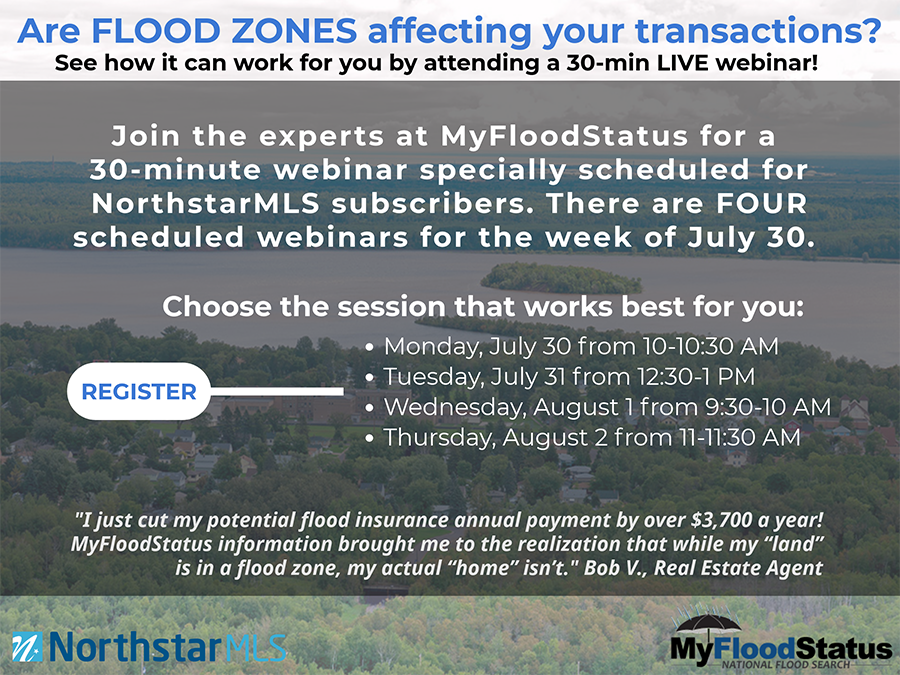 Flooding Will Happen…Incorrect Determinations Should Not!
Already in July there have been 30+ Minnesota counties deemed to be in a state of flood emergency by the Governor.
NorthstarMLS has partnered with MyFloodStatus, allowing you to order the most accurate flood reports in the industry, at a discounted rate. Join the experts at MyFloodStatus for a 30-minute webinar specially scheduled for NorthstarMLS subscribers. There are FOUR scheduled webinars for the week of July 30 – choose the date that work best for you.
What's Discussed?
You'll learn about Accurate Flood Zone Determinations and how they help Realtors eliminate risk of liability, reduce flood insurance premiums for homeowners, buyers and sellers, remove properties from High Risk Flood Zones, and more!
After registering, you will receive a confirmation email containing information about joining the webinar. CLICK HERE TO SIGN UP!