New TrustFunds Option
New Earnest Money Designation in TrustFunds 
Good news! With the MN Real Estate Form Changes that went into effect on Aug. 1, your buyer has a new option to make their earnest money payment with TrustFunds (a NorthstarMLS core service), even if the Listing Broker is not a TrustFunds member.
In the new Purchase Agreement form, you may designate that the earnest money go into the selling agent's brokerage trust account. If the selling agent's brokerage is a TrustFunds member, then the buyer can use TrustFunds to electronically deposit their earnest money into that account.
Here is a look at the earnest money account designation on the new Purchase Agreement, and the account selection screen in TrustFunds (click graphic to see a larger version) :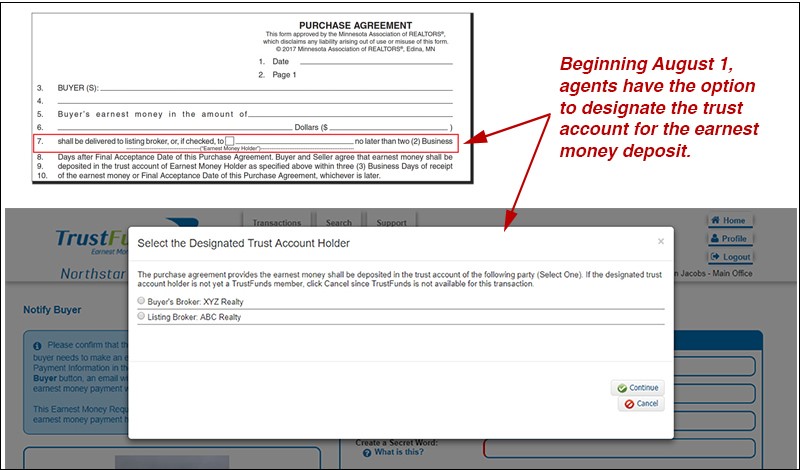 To access TrustFunds, click the TrustFunds icon/link in the External Links box here on the Matrix Home screen or from the Home tab drop-down menu. Or click the TrustFunds link/icon below the main photo on any Active, TNAS or Pending Status listing.
---
TrustFunds Archive Want to check out older TrustFunds content? Click here to view the archive of previous TrustFunds news from the Matrix News Screen.