Join Us for a 5K Walk/Run
10th Raksha 5K Walk / Run for Distraction-Free Driving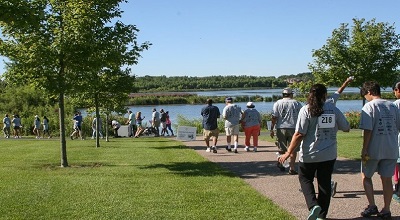 As part of our ongoing Drive Focused campaign, NorthstarMLS has partnered with the Shreya R. Dixit Memorial Foundation to sponsor the 10th Annual Raksha 5K Walk and Run for Distracted-Free Driving on August 5, 2017 at Purgatory Creek Recreation Area in Eden Prairie.
NorthstarMLS is sponsoring the event in Hugh Trimble's name, our former Rules & Regulations Administrator. July 23 will mark one year since Hugh tragically lost his life from injuries he sustained in a motor vehicle crash when he was rear ended while riding his motorcycle on July 11, 2016.
Join Us
The event is open to the public and we're inviting all NorthstarMLS subscribers to join us. NorthstarMLS will have a team participating on behalf of Hugh and we'd love for you to join us. Or if you prefer, start your own team of co-workers/colleagues to participate. If you know someone else that has been involved in a distracted driving crash, you may walk in their name, too. You'll find an option to input the name of the person you're participating for in the registration form.
Proceeds from the 5K Walk/Run benefit the Shreya R. Dixit Memorial Foundation, a local nonprofit organization dedicated to educating the community on safe and distraction-free driving. Shreya Dixit was 19 years old when she was killed in a distracted driving crash while returning home from college for a weekend back in 2007.
Cost
Saturday, August 5, 2017
7:30am – Onsite registration begins
8:00am – 5K Run begins
9:00am – Ceremony / Remembering those we've lost
10:00am – 5K Walk begins
More information on the run/walk can be found here.
You can Register Here. Note: T-Shirts are only guaranteed for those registrants who register by July 15.

Contact Vijay Dixit with any registration questions: vijay@shreyadixit.org