Tip of the Week: Rolling 12-Month Data View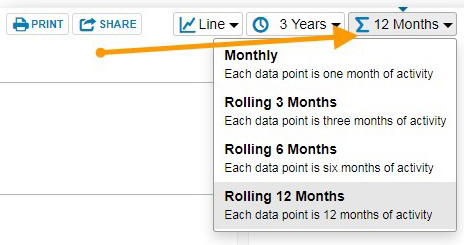 Analyzing market data through graphs and looking for trends can be tricky because the data points sometimes change drastically from month to month. For example, if a brand new condo building was built in October 2018, home sales may have seen a large spike that month, when October is usually a slow sales month. Thankfully, when creating charts in InfoSparks (a NorthstarMLS core service & market analysis tool), there is an option to use a "rolling" data view to smooth short-term fluctuations and highlight longer-term trends you are looking for.
By using the Rolling 12 Months, you can educate buyers and sellers on basic fundamentals of statistics and provide meaningful information that can be used to make buying and selling decisions. Each data point on the line graph represents 12 months of activity up to that point in time. The sample set will be larger for more meaningful trend analysis. Note how much smoother the line is when using the Rolling 12 Months calculation.